Global retail giant Walmart is looking to engage more with Indian startups as it seeks access to innovative technologies for its e-commerce and supply chain operations through collaborative partnerships or even acquiring them.
Country's largest lender State Bank of India is taking steps to develop women entrepreneurship in the country, its chairperson Arundhati Bhattacharya has said.
Ahead of the upcoming Assembly polls in Assam, Prime Minister Narendra Modi yesterday visited the state, to boost party's morale as it prepares to challenge the ruling Congress.
The Ministry of Skill Development with the help of National Skill Development and Corporation(NSDC),local training partners and support from state governments, MPs and MLAs conducted 410 Kaushal Vikas Shivirs across the country, to educate and encourage the youth to avail the scheme.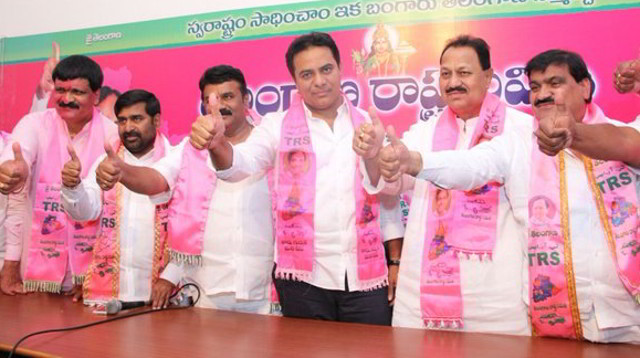 "The promise of double-bed room houses for the poor, wooing influential leaders from other parties and giving tickets to Seemandhra natives are among the key factors that led to the clean sweep of TRS in the Greater yderabad Municipal Corporation (GHMC) elections."
A "deeply frustrated" UK today announced it will formally contest the opinion of a UN panel that WikiLeaks founder Julian Assange is a victim of "arbitrary detention".The UN Working Group on Arbitrary Detention today ruled that the 44-year-old Australian should be allowed to walk free as well as be
If you think that AIADMK cadres and Jayalalithaa fanatics have gone too far with their Amma-branding exercise, then you are wrong, things are getting unreal now. The long list of Amma-branded products and services, from the successful Amma Canteens to Amma Cements and the much-criticized Amma relief material for TN floods, has made sure that Amma is everywhere in Tamil Nadu. And now, she is at weddings too, right on the foreheads of couples who are marrying.''
Saswati Sarkar on Subhas Chandra Bose - The myths, the distortions and the biases
External Affairs Minister Sushma Swaraj on Saturday offered to open an Information Technology Park in Sri Lanka that could attract investments in this growing sector.
Mumbai Congress chief Sanjay Nirupam has got a reprieve with the party accepting his apology over the publication of controversial articles slamming Jawaharlal Nehru and terming Sonia Gandhi's father a "fascist soldier" and asking him "to be careful in the future".