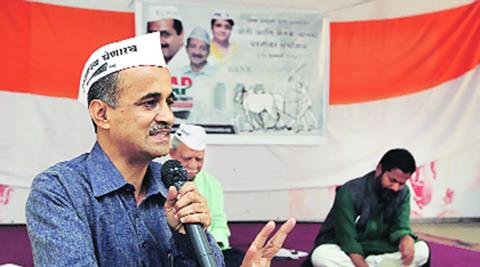 "Yes I have resigned. I don't oppose the decision (of dissolution of Maharashtra unit). But the undemocratic way it was dissolved, me and entire fleet of volunteers were shocked," a dejected Subhash Ware said.
When was the last time one single issue bound the nation- it was the collective fight for Independence from British rule.
The Centre is in talks with Mauritius with regard to the long-pending revision of the bilateral tax treaty, Revenue Secretary Hasmukh Adhia said today.
India Ratings today said the rupee has outperformed most of its peers in the emerging economies.
Post the joint press statement Chancellor Angela Merkel and Prime Minister Narendra Modi attended Ekta- a performance showcasing Indian and German musical traditions.
The Devendra Fadnavis led Maharashtra government however today declined to stall staging of the play "Agnes of God", which tells the story of a nun who delivers a still-born child.
Samajwadi Party leader and Senior Uttar Pradesh minister Azam Khan today said that he will raise the matter of Dadri-lynching with the United Nations reminiscent of the manner in which Pakistan's Nawaz Sharif caricatured himself as a "Dehati Aurat" rushing to the UN last week.
RBI Governor, Mr. Raghuram Rajan announced a cut of 50 basis point in Repo rate on Tuesday. The reaction from the Indian industrialist was that of a much awaited relief and surprise due to the image of Mr. Rajan.
Silicon Valley in the United States is very much in the news now, with the very recent visit of our Honourable Prime Minister to the Bay Area with his vision and dream for his country [Digital India].
More important was the issue of the South China Sea. Xi Jinping reiterated China had the right to uphold its territorial sovereignty and that Beijing did 'not intend to pursue militarisation' of the artificial islands.