At a time when we are pushing entrepreneurship and talking about a self-sufficient India with the flagship programmes like Startup India Standup India, Make In India, Ease of doing business, it is important to note how regulatory restrictions have hurt us in the past and they continue to do so in ma
Attacking the Prime Minister, Rahul Gandhi said: "The job of the Prime Minister is to run the government, not to make excuses. They have now decided to take revenge on people, on the poor workers for voting the Congress out of power."
Congress Spokesperson Manish Tewari says Media freedoms are too fragile and precious to be left to the tender mercies of the state.
Jamiat-Ulama-i-Hind, the powerful body of Muslim clerics, has said that Muslim personal law flows from the Holy Quran and cannot be subjected to any scrutiny by the Supreme Court based on principles of the Constitution.
The Congress party's mayor candidate M Vikram Goud stood third in Jambagh while former city mayor and Congress leader Banda Karthika Reddy lost her Tarnaka seat to the ruling Telangana Rashtra Samithi (TRS).
The Arvind Kejriwal-led Delhi government could soon announce the second phase of the odd-even scheme in the national capital, a report said on Saturday.
In a U-turn that is sure to rile groups fighting for gender equality, the Kerala government on Friday told the Supreme Court that it was duty bound to protect the centuries-old tradition banning entry of women between the ages of 10 and 50 years into Sabarimala temple, which also had constitutional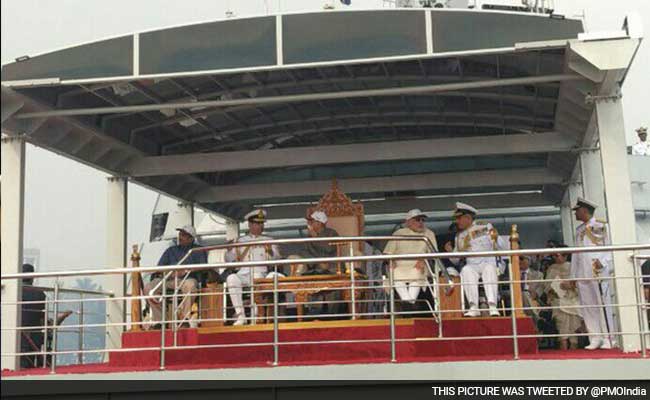 At the Navy's biggest-ever event off the coast of Andhra Pradesh today, President Pranab Mukherjee is inspecting ships from 50 countries. India alone is parading 75 warships for the ceremonial inspection at the second International Fleet Review' 24 international warships have also sailed in.
The government on Friday imposed minimum import prices (MIPs) on specific steel products to protect domestic players from cheap imports from China and other countries.
The United States has welcomed Indian government's move to ratify the Convention on Supplementary Compensation (CS) for Nuclear Damages, stating that the "important step" will facilitate participation by American companies in the construction of nuclear reactors in India.
Asserting that India is sitting on the cusp of a digital revolution, Union Minister Ravi Shankar Prasad has exhorted senior executives of leading American IT firms to take advantage of the 'Digital India' initiative and tap the growth opportunities in the country.