Mark Blinch/Reuters Modi is the 6th most powerful person in the world.Indian Prime Minister Narendra Modi is one of the most influential people on the planet,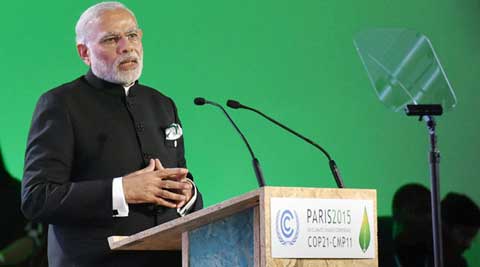 Whatever the outcome in Paris, this round marks an important shift in India's climate diplomacy
Now NYTimes joins the blame Modi bandwagon for Paris Summit.
Prime Minister Narendra Modi addressed COP 21 Plenary. On the occasion he also dedicated new edition of his book Convenient Action.
International Solar Alliance was the event that stole the show on the day one of COP 21. Prime Minister Narendra Modi was present at the launch of the Alliance and his contribution towards the use of Solar Energy was lauded by the world leaders.
Prime Minister Narendra Modi hosted Mission Innovation an event hosted by the US President Barack Obama on the sidelines of COP 21.
To create awareness about India's rich cultural heritage and its diversity among the Indian diaspora youth, the Ministry of External Affairs has launched a "Bharat ko Jano" quiz online, as part of the Pravasi Bhartiya Divas to be held next year in January.
Prime Minister Narendra Modi attended a special lunch hosted by President Francois Hollande at COP 21. Post which PM Modi had meeting with numerous world leaders on the sidelines of the COP 21 Summit.
Global Initiative of Academic Networks -GIAN aims to encourage International Academicians to engage with Institutes of India.
Lok Sabha today witnessed uproar after CPI(M) leader Mohammad Salim alleged that Rajnath Singh had made few controversial Hindutva remarks. Singh denied the allegations outright and demanded an apology.
The attack on Charlie Hebdo office in distant France saw the Liberals unite over the need to protect the freedom of expression but not a word on the attack on Lokmat Offices in Maharashtra.
Carbon Imperialism makes a debut in our strategic discourse as concerted attempts to box India at Paris Climate Summit, COP21, surface with an all too familiar good-cop, bad cop-routine by the West.
Prime Minister Narendra Modi began today's episode of #MannKiBaat on a very sober note when he talked about how floods in Tamil Nadu have dampened the festive mood of the nation.
Vellapally Natesan, General Secretary of the Sree Narayana Dharma Paripalana Yogam, an organisation of backward Ezhava community, earlier in the week embarked on his highly publicised 'Samathwa Munnetta Yatra' in a bid to unite Hindus.